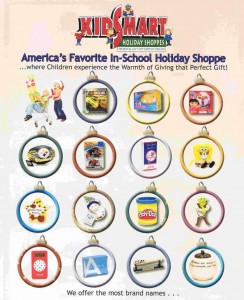 With Kidsmart Holiday Shoppes you also have the option to choose up to 50 of your own selections to sell. These will be sent with the additional 65 pre-selected items.
CLICK HERE TO DOWNLOAD A SELECTION FORM




We supply the following support and materials free of charge:

These supplies will arrive at your school at least three weeks prior to your event.


For every student! You will receive full color flyers on copier-friendly paper stock. Simply place in your copy machine at school to copy your shopping schedule and information on the back.




For every student! These envelopes allow parents to work with their children on a budget – who to buy for and how much to spend.




You will receive several full color 11" x 17" posters to announce your upcoming sale.




This booklet offers a well organized approach to managing your event. We cover, in detail, each step of the process – from set up to pack up! This valuable booklet includes sample letter formats for teachers and staff, a markup chart to help you set your own pricing, and much more!
Decorative Table Covers

These table covers add a festive look to your tables. Each cover fits 8' long tables. Designs may vary.
Gift & Take-Home Bags

We will send you a generous amount of To/From gift bags and large plastic Take Home bags for your sale. Designs may vary.
All gift merchandise is provided on a risk-free CONSIGNMENT basis.
We pay all shipping costs on the original order, re-orders, and unsold product returns.
We provide you with a pre-programmed cash register to make it easy at check out.
To assist you with merchandise check in and counting, our products are sequentially packed by cost, from lowest to highest, and are listed as such on your Master Inventory Worksheets.
Ample quantities of each item will be sent for your sale. Providing us with a copy of past sales records is a great help to us for configuring overall product totals to send in your initial shipment.
Re-Orders are provided upon availability and will be shipped to arrive at your school the next business day.